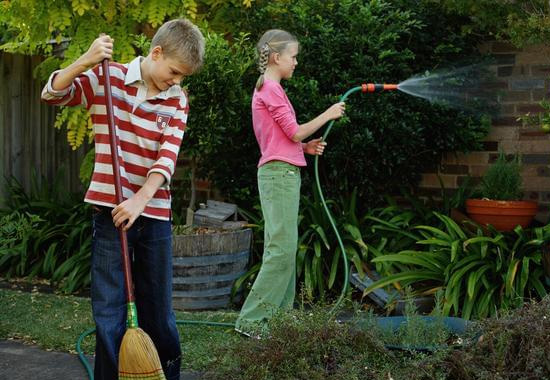 Top five ideas for part-time jobs for teenagers
If your teenagers are asking for extra pocket money part-time work is a great way to help them get some. Getting them to approach it by thinking and acting entrepreneurially is a great starting point. For instance, tapping into the local community is a good place to find paid work so get your children out in the area speaking with neighbours, friends, family and local merchants to find opportunities. There are also more corporate opportunities where young people can make a big impact. Working with them and getting them to think creatively about how they can can earn extra money will empower your children and help teach them the value of money.
To get your juices flowing on things your children can do to earn extra money here are our five ideas for part-time work for young people:
1. Gardening jobs
This is a great opportunity for teenagers to merge work and exercise together and teach them a range of useful skills, from pruning trees, lawn mowing or weeding a vegetable patch. If your teenager isn't green fingered they could look into volunteering locally first to pick up the relevant skills before offering their services to others.
2. Pet services
People often have no time to exercise their pets, or may need someone to lend a hand when they are away. Encourage your teenager to build a rapport with others in your neighbourhood and offer their services for looking after their pets. This can include walking and washing people's dogs or feeding their cat and it also teaches them responsibility.
3. Babysitting
Parents often bemoan the difficulty in securing a good babysitter, especially for last minute outings. Babysitting services can be paid either on an hourly basis or aggregate so make sure your teenager has negotiated a good price for their services before starting out.
4. Participate in market research
Advertisers are always on the lookout for input on how to pitch products to different age groups and they often do this by asking for opinions during focus groups. These can take anywhere from two minutes to two hours and opinions can be rewarded in cash. Always make sure you're happy with the company's terms and conditions before signing up.
5. Get a part-time job
Once your teenager has turned 16 they can think about earning in the workplace, earlier in some roles. A part-time job after school or on the weekend such as working in a café chain, cinema or High Street shop can provide valuable experience relating to teamwork and how to manage different situations and personalities.