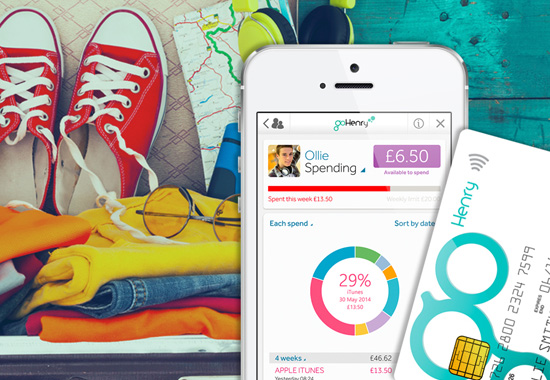 Top 3 tips for travelling abroad with your gohenry card
What is it about going on holiday that makes money disappear in double time? The sun goes up and so does our spending - and what numerous studies have shown is that our children begin emulating our money habits from as early as 6. Therefore it's up to us to make sure that this next generation is better with managing their money than the last, especially when it comes to unnecessary spending.
These are a few things that might come in helpful when planning your trip, have a read of our top tips to ensure your children are equipped with everything they need for holiday spending (including your goHenry card).
Tip 1: Understand charges when spending abroad
To withdraw money from an ATM abroad there is a charge of £2, but please be aware that some cash machines may charge extra. When using the goHenry card in shops, there will be a fee of 2.75% on purchases.
Any goHenry transaction in a foreign currency will be converted into pounds. We'll do this at the rate of exchange provided by Visa Europe on the date the money leaves your account. You can find more information on exchange rates on the Visa Website.
Tip 2: Make sure your data package will cover use of goHenry abroad
Last summer, goHenry parent Susan spoke to the Mail Online about how her son Blake made sure he could still use his goHenry app while he was away:
"…The Travel Pass provided 25 megabytes of internet data for Blake's iPhone 5s – enough to send 25 simple emails, visit 20 web pages, spend five minutes using an app and watch a two-minute video clip. But Blake also used the data allowance to monitor his spending on an app called goHenry. It is linked to a prepaid Visa card he took on the trip, with the account topped up and managed by parents Susan, 57, and Robert, 52. The app shows children how much they are earning for completed chores at home, how much they are saving and how much they are spending.
Susan says: 'Blake is good with money and I trust him, but the app gives him a clear breakdown of what he's spending his money on and makes him think about where it's going a bit more. He can see exactly what his finances are like on his phone.' Blake was careful not to use up his internet data too quickly. Susan adds: 'He turned his phone off when he wasn't using it so he didn't go over the allowance."
Tip 3: Make sure you adjust their limits for holiday spending
Before your child goes away, it's a good idea to review your current weekly and single spending limits as your children are more likely to need a bit more money, while they're away. Obviously, these can be adjusted at any time during their trip on the Rules page within goHenry.
Follow these steps and your child will be able to monitor their holiday spending and use their goHenry card safely and easily wherever they are.