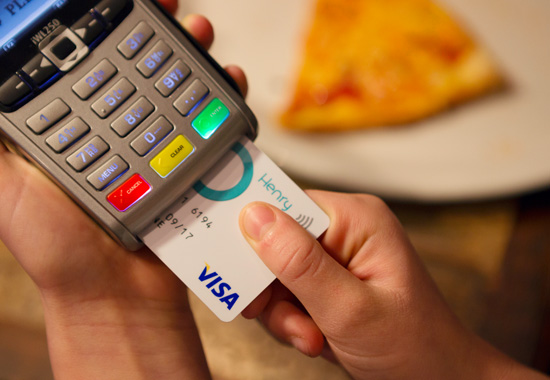 Activating your gohenry Card
Step 1
Firstly, you will need to login to your parent account.
Simply go to our website www.gohenry.co.uk/activate, and login.
In case you're not sure what your login details are, they will be the email address and password that you entered and created when you originally set up the goHenry account and ordered the card.
If you've forgotten your password, simply click on the "I forgot my login details" link, and an email will be sent to your registered email address to help you login.
Step 2
Once logged in to your parent account, on the first screen you come to (the family page) you will see a card shape with your child's name on.
You can activate the card through the website or the app, it's really simple on both.
Just above (Or inside if you're using the app) the card, there will be a small, orange tab that says "Activate card". Click on this tab.
If you have not yet added any funds to your parent account, you will be asked to do so now, so that you are able to activate the card. You will be brought to this screen: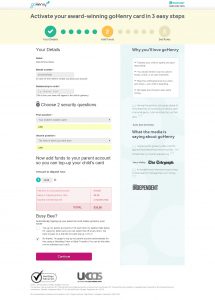 Enter your details, and then click "continue to activate parent account".
Step 3
You will now be required to make a payment with a debit card to activate the goHenry account.
You can put a minimum of £2 on at any time. It will give you a suggested amount to top up in the box, but you can just click to change this.
One thing to remember, is that our custom cards cost £4.99, so if you have ordered and received a custom card, you will need to put enough money on the parent account to cover that cost.
For example, If I want to load £2, and pay for the card, I would need to load £6.99.
Auto top up will automatically top-up your parent account with an amount of your choice (a minimum of £10.00) when the balance falls below £5.00. It is completely up to you whether you want to use this feature. If you choose to stick with Auto top up, then do bear in mind that any time a transaction comes from your debit card to load the account, there will also be a charge to you of 50p. You can however, avoid this by unticking Auto top up, and making a standing order or a bank transfer - both of which are completely free of charge.
Once you have completed this section, click on "make payment and continue".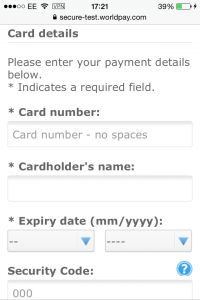 Fill in your payment details.
Step 4
Once your payment has been successfully made, you will be brought to this screen - where you now activate your child's card.
Enter the details on the page.
Once done - click "continue to activate card"
Step 5
This page is where you set up the parental controls on the goHenry account.
The weekly allowance is the amount of automatic pocket money that you will be paying your child on a weekly basis, this is not including any tasks that you choose to set up.
If however you would rather not give a weekly amount, just enter "0.00" into the box and no funds will go from parent to child automatically.
You can then decide how much and where the card can be used. The weekly spend limit is the total that can be spent in one week - this includes any shop, online & ATM transactions. For example, if there is £10 on the card on Sunday, and £2 of that is spent, there will only be £8 available until the next pocket money day or transfer.
You can increase the weekly limit and the other limits through your parent account at any time.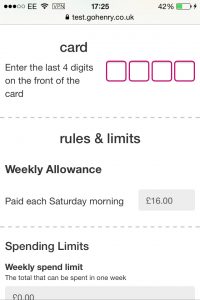 Step 6
Once you've decided on the weekly limit, you will then need to set the single transaction limit (the most that can be spent at any one time) and the ATM limit. (Don't forget - your child won't be able to check their balance at an ATM, but they can withdraw funds as long as you've allowed it. And they won't be charged by us).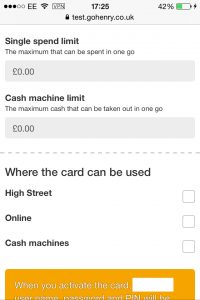 Once you are happy with the rules and limits you have sent, enter the last four digits on the front of the child's goHenry card into the top 4 boxes.
Then, click "activate card" at the bottom of the page.
Step 7
The next screen will show you all of the child account information that you need.
The Card pin number will show on the screen for about 5 seconds, and then disappear. (If you miss it, don't panic - you can go back to retrieve the pin at any time, check our FAQ's for instructions).
If your child would like to change their pin at any time, then they can do so easily by going to an ATM. Simply choose "pin services" at the cash point.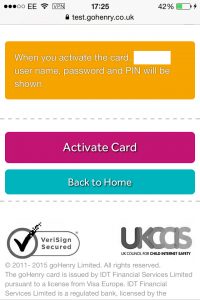 You will also see the child's username and password. These are the details that they will need to log in to either the website or the app. They can also use their card pin number as their password.
We think this covers just about everything! But if not, you can find the answers to everything goHenry related in our FAQ section; and you can always contact our member services team who will be more than happy to help.