It was recently Mother's Day, and at goHenry we hope that all of the lovely Mums out there were treated to something special by their little ones. However, it may surprise you to learn that 1 in 10 Mums won't have received a present at all, and a third won't have even had a lie in - can you believe it?!
A recent survey of 1,053 British Mothers found that 43 per cent of Mums have received lousy Mother's Day gifts such as toilet rolls, a tin of beans, and even deodorant, but were too polite to express their true feelings to their family. Top of the wish list for Mums was a family meal, with 33% saying that they would love to spend time together with their children and enjoy some lovely food too – sounds like a great way to spend Mother's Day to us!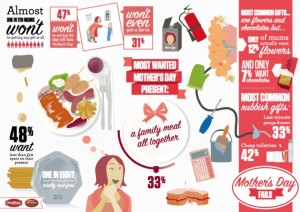 In light of this, we decided to ask some Mums on Facebook and Twitter what they were bought, and here are some of the responses we received – we're very pleased to say that no toilet rolls featured!
Hollie: "My 8 year old daughter used her go Henry card for the first time to buy me some beautiful flowers."
Karen: "Chocolates, flowers and some gorgeous leather gloves!"
Hayley: "I was bought some Wine."
If you received a special Mother's Day present, we'd love to hear about it! Leave a comment below or head to our Facebook page to let us know.