Last month we looked at the Office of National Statistic's annual Consumer Price Index (CPI) report, which revealed a 2.9 per cent increase within the last year. This month we took a second look at the latest July 2013 CPI results, and its effect on inflation, from a children's point of view. But before we go into the latest results, let's begin with a quick refresher.
So what is the CPI, and why does it matter to us? Every year, economists compile a 'basket' of more than 700 goods and services the average UK household consumers, and then records the changes in prices for these goods over the course of the year. This helps us understand how inflation has affected households over time. The June 2.9 per cent increase, for example, means that prices were 2.9 per cent higher than they were the previous year- a rate higher than economists had originally predicted.
But how have things changed over the past month? Call it a summer holiday, but the CPI has remained relatively stable over the past month, going down to 2.8 per cent.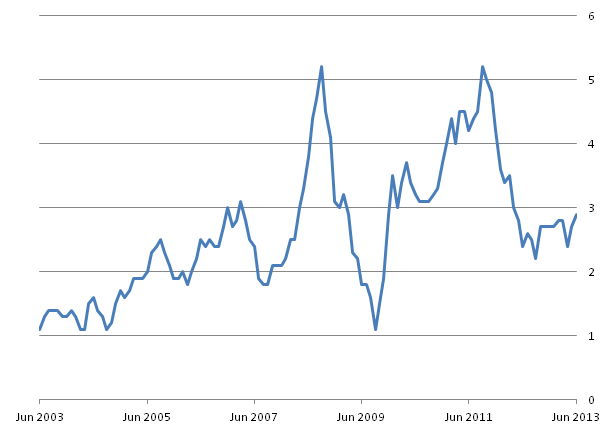 This should be welcome news for general consumers, parents and children alike- especially just before we hit the back to school rush.
Speaking of children, last month we created the Children's Price Index, a 'basket' of children's tops goods and services. This is something we've been following regularly, tracking top children's items like confectionary, snacks, clothing, recreational activities, and games and toys.
How did we choose what went into the children's basket? Well, as much as we all know kids love sweets and clothes, we didn't want to make any assumptions. So we decided to add some intelligence and put together a study which analysed 4,000 transactions of children's transactions of more than 1,000 families using the goHenry website.
In addition to traditional children's purchases, we found an increase in spending on music, online games and smartphone apps.
Now, it's time for this month's good news for children. The inflation rate for items within the Children's Price Index has actually decreased over the past month. Going out activities, clothing costs, and games have decreased over the past month. Overall recreation activity costs have fallen by 0.4% between June and July 2013, while clothing and footwear prices have fallen by 3.2 per cent.
So whether a child is saving for his or her next pair of trainers or a trip to the cinema, parents can rest assured their children can't be using off the charts inflation as an excuse for more pocket money in these categories!
We'll be checking in on the CPI again on next month, but until then here's to happy spending and a hat tip to price stability.
goHenry is a unique earning, saving and spending solution for parents with children 6 - 18. Start your free trial of goHenry today by clicking here.