Editor's Note: In a three part series, 15-year-old Isabella (Izzy) Hill recounts her experiences travelling and volunteering throughout Tanzania with her mum, goHenry COO Louise Hill, last month. Read part three below as she reflects on her final experiences traveling and volunteering throughout the country.
The day after we had finished Raru's house we went seaweed farming in the morning with the locals and we even got to try some. It was surprisingly nice but very salty. We had to tie the pieces of seaweed to a long piece of rope so that when the tide came in the seaweed would grow and so they would have more to sell. They use recycled bottles to keep the rope afloat and they would leave the seaweed to grow for three months.
In the afternoon we made chapatis and vicettis (little sugared biscuits) with the women in the village and they tasted amazing! We had all the children coming over and having a look at what we were up to (most asked for the food we were cooking).
Every day we have gone out to the village's football pitch and played with the local team and the kids. There are so many boys who come and see the visitors, they play with your cameras but they always bring them back and when they get to know you well they come and find you whilst you are working and help you. They seem to love sunglasses and piggybacks.
I would like to say a big thank you to Eliphas and Anderson for all the help they have given us, it would not have been the same experience without them.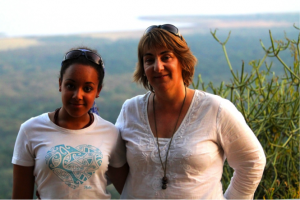 Isabella Hill, age 15, with her Mum, Louise Hill, COO and founder of goHenry
goHenry is a unique earning, saving and spending solution for parents with children 8 - 18. Start your free trial of goHenry today by clicking here.